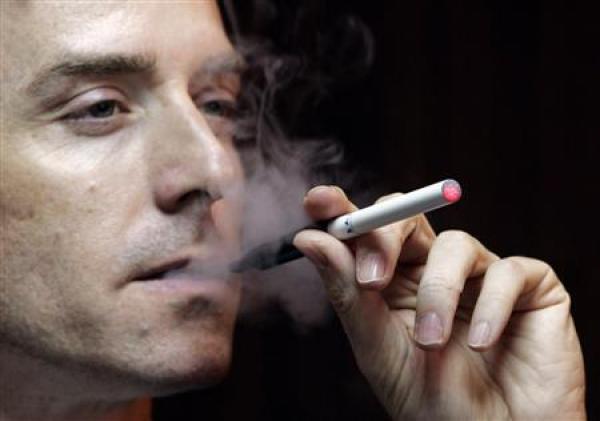 According to an article in DNA, a significant number of smokers with deeper pockets are switching to e-cigarettes. Electronic cigarettes which are also known as personal vaporisers have been steadily gaining in popularity in the West, initially as a way of breaking the smoking habit, with the added benefit of being completely smoke (and stink) free. The devices consist of a cartridge containing a liquid nicotine mixture and a vaporiser which converts it into aerosol form which is then inhaled. The exhaled air is said to mainly consist of water vapour. The practice of 'smoking' e-cigarettes is colloquially known as vaping.
DNA's article reports that sales are brisk in Bombay.
E-cigarettes are available in different flavours like strawberry, coffee, vanila and menthol. And their tagline – 'Stop smoking and start vaporising' – seems to have struck a chord in many smokers. So much so that e-cigarettes are now retailed by thousands of neighbourhood paan-and-cigarette shops and websites.

Mucchad Paanwala, one such well-known shop in south Mumbai, has been selling about 2-4 packs of e-cigarettes a day (or 60-120 packs a month). Similarly, Jagdish Chauhan of Yamus Paan Shop in north-west Mumbai has been selling 50-75 packs of e-cigarettes every month.

He says local brands like BQD and Fly Smoker are the first ones to fly off his shelves as they are available in the price range of `300-400, much lower than recognised brands like Green Smoke, WhitECloud that retail around `2,000 a pack.
However, even though they are still used to wean smokers away from conventional cigarettes, many are sceptical about their effectiveness in breaking the habit. As DNA further notes, several tobacco players are launching their own brands of e-cigarettes, which doesn't sound encouraging.